Treasures show up in the oddest places. I was culling the fiction collection at my day job last week when this aged volume caught my eye. I greedily snatched it up before placing it on the book sale truck among the other discards (one perk of working at the library).
Mercedes Lackey is one of the brightest stars in the galaxy of fantasy fiction. She was writing years before J. K. Rowling and Harry Potter took the genre mainstream and continues to pen page-turners today. The Firebird is a central figure in Russian folklore and a celebrated symbol of spring. Lackey's spins the classic fairy tale into a heartfelt and thrilling novel about a young man struggling to find his place in the world.
Ilya Ivanovitch doesn't have the easy, carefree life that he should as the fourth son of a tsar. His father is a tyrant, his insecure brothers beat him half to death on a regular basis, and his three best friends are a priest, a shaman, and a dairymaid. Then one night his life changes forever. Ilya spies the legendary Firebird stealing cherries from his father's prized orchard.
The Firebird is a magical, shape-shifting creature: part bird, part woman, part elemental. She sees Ilya as well, flying away quickly but leaving him with the ability to understand the speech of animals. Eventually Ilya escapes his wicked family, journeys across an enchanted Russia, makes new friends, and faces a great and powerful evil in order to win true love.
Like all fairy tales, Firebird is at its heart a moral tale. Through her charming characters Lackey meditates on what makes a good family, the corrupting nature of wealth and power, what it means to be an honourable man, how to treat women, and the many faces of love and desire. Firebird is a particular good read for thoughtful young adults, male or female.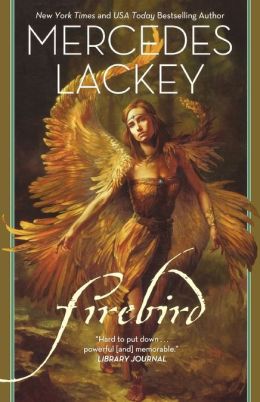 Lackey's novel also opens a portal to the lesser-known world of Russian folklore and mythology. The GPL boasts several volumes for all ages on this fascinating topic if you're interested. Visceral, colourful, and fanciful these tales are guaranteed to delight and enlighten readers of any age.
"But what about Lackey's novel!?" I hear you asking. "You discarded it! Is it out of print?"
Fear not. I discovered that this 1995 novel has recently been reborn in ebook form. The Firebird soars again!